Supporting Equity in
Perinatal Wellness
Nurturely promotes equity in perinatal wellness and strengthens cultures of support for infants and caregivers.

We prioritize prevention, tackling the root causes of perinatal disparities.
Priorizamos
la prevención,
abordando las causas fundamentales de las disparidades perinatales.
Our process is rooted in anti-racism and interdisciplinary collaboration, essential for ensuring parents and babies can access their optimal wellness. We engage all members of the community to build a society that fully supports the perinatal period.
Nurturely Programs
What We Offer
Request Outreach Materials
Solicite Materiales y Presentaciones en Español
Learn how to connect expectant parents and perinatal professionals to Nurturely services. Request a free outreach presentation to your organization, business, or school.
Featured Programs & Events
Dismantling Oppression in Perinatal Wellness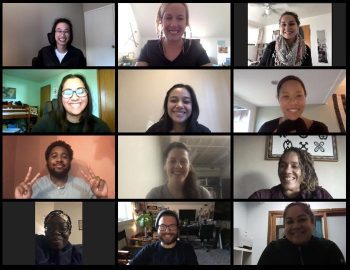 Racism and systemic oppression are the biggest threats to perinatal wellness.
Internal Anti-Racism: We encourage critical analysis of ourselves, our operations, and our organization to ensure that we are actively working to dismantle systems of oppression in perinatal health and beyond.
Prioritizing Equity: Nurturely's perinatal wellness programs are developed and led by diverse community representatives, with the goal of centering the experiences of Black, Indigenous, and People of Color, queer/transgender, and all communities who experience barriers to optimal wellness.
Mi pasión para el mundo perinatal viene de mi propia experiencia. Cuando yo tuve mi primer bebe no entendía los recursos necesarios para entender cómo cuidarme a mi misma y a mi hijo también. El trabájo que Nurturely trae a la comunidad es precisamente eso y es para todos incluyendo a la comunidad latina.
It's exciting to be part of a team that promotes equity in our systems and strengthens supports for minorities - especially because as a Latina, I know there is a need for equity and support for many people.
Nurturely is an awesome organization! So needed. The Milk Magic Educators Program was exactly what I was looking for in terms of lactation education, right at the time when I was really wishing I knew more to be able to support new parents that I serve as a doula! I am learning so much that I wish I had known 12 years ago, then maybe my son and my lactation journey would have been a smoother one. So, thank you for this vision and this space!
The work being done at Nurturely is so important and exciting to me because, as a new parent during COVID-19 and ongoing racial tension, violence, and injustice, I have seen first-hand how beneficial strong support systems can be for parents and children as well as how challenging things often are when we don't have the support we need. I am honored to be part of a mission to provide parents of all kinds support and community that is accepting, affirming, and that consciously addresses the inequities that create challenges for families with marginalized identities.
My passion for perinatal health and wellness started after I had my daughter four years ago. Through my own experience navigating postpartum and postpartum anxiety, I learned how essential it is to have support during this period and how lacking it is in our society.
It's important that we debunk the stigma of teen parenting and making them feel as if this is the end of their lives. By providing resources to these young parents we can instead give them the education, support and confidence in themselves to be the best parent they can.