Supporting equity in
perinatal wellness
Nurturely eliminates disparities in postpartum and infant health through education, research, and cultural change
Our Approach
Prioritizing Prevention

We tackle the root causes of perinatal health disparities with innovative, preventative solutions
Priorizamos
la prevención,
abordando las causas fundamentales de las disparidades perinatales
Our Values
Centering Antiracism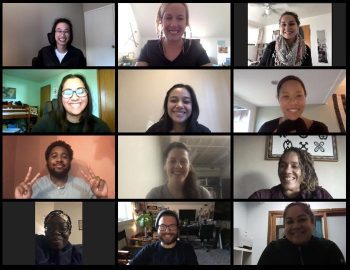 Racism and anti-Blackness are the biggest threats to perinatal health
We are a multicultural organization focused on racial equity and intersectional inclusion. Our goal is to create systemic and cultural change that centers Black wellness from a global and cultural lens.
Our Programs
Catalyzing Change
Our Opportunities
Connecting & Learning
Our Perspectives
Expanding Awareness
I'm a Nurturely Board Member because I'm impressed with the mission and vision and I love that Black women and birthing people are prioritized. At Nurturely, we are all about perinatal* wellness and equitable access to resources and support that can lead to a healthier community.
It's exciting to be part of a team that promotes equity in our systems and strengthens supports for minorities - especially because as a Latina, I know there is a need for equity and support for many people.
Nurturely is an awesome organization! So needed. The Milk Magic Educators Program was exactly what I was looking for in terms of lactation education, right at the time when I was really wishing I knew more to be able to support new parents that I serve as a doula! I am learning so much that I wish I had known 12 years ago, then maybe my son and my lactation journey would have been a smoother one. So, thank you for this vision and this space!
The work being done at Nurturely is so important and exciting to me because, as a new parent during COVID-19 and ongoing racial tension, violence, and injustice, I have seen first-hand how beneficial strong support systems can be for parents and children as well as how challenging things often are when we don't have the support we need. I am honored to be part of a mission to provide parents of all kinds support and community that is accepting, affirming, and that consciously addresses the inequities that create challenges for families with marginalized identities.
Postpartum is hard. It's really hard to go from one phase of life to another. It's good to have resources to help with that.
Mi pasión para el mundo perinatal viene de mi propia experiencia. Cuando yo tuve mi primer bebe no entendía los recursos necesarios para entender cómo cuidarme a mi misma y a mi hijo también. El trabájo que Nurturely trae a la comunidad es precisamente eso y es para todos incluyendo a la comunidad latina.
Too often is breast milk limited to those who have supportive employers that allow for feeding/pumping or those who can afford to pay for sources or milk rather than to any who desire it.
My journey in healthcare is rooted in my lived experiences as a patient and caregiver. I've seen first hand how our healthcare system can fail patients and caregivers by being reactive, difficult to navigate, and inequitable.
I LOVED finding this gem of a place. This place is step in the right direction for our society by demonstrating in tangible ways our community's commitment to nourishing humanity, supporting families, and embracing the needs of women, men, and children. Thank you so much!!!
Food is a human right from the moment we are born until the day we pass. Human milk is such an incredible miracle. Our babies deserve to be nourished and nurtured in its most basic form.
Everyone has inherent dignity from the moment they start existing, and to me that includes access to Healthcare and other basic needs. For ALL people, regardless of identity.
Me encantó Embarazo Exitoso vía zoom, durante mi trece embarazo fue muy útil repasar información que nos ayuda como Madres y padres. Este foro fue el primero que eh asistido y está en Español y convivir con otros padres latinos. Fue una muy bonita experiencia y se lo recomiendo a mis amistades y comunidad. Gracias nutruely por comenzar este foro en Español.
Nurturely has been a huge support in my transition to parenthood. From their Positively Pregnancy 6-week course to their weekly BIPOC sanctuary, I've never been alone despite being away from family and my deepest networks of support. There's always someone to answer a question and hold big emotions and they recognize that everything is linked, holding events on the intersection of environmental racism and pregnancy and operating at an intersectional and inclusive lens that I've never witnessed in the nonprofit world.
It's been great to have a community and organization that matches your values and belief. I am grateful for the programs I've attended because they have provided me with knowledge for myself and others, and tools to advocate for human rights.
I love supporting Nuturely's work because I am a parent and a psychologist, and I have seen both in my work and my personal life the importance of equity in the journey of motherhood.
Amazing people, amazing nursery great experience for my kiddo, thank you!
This program is vital to raise awareness about access to resources and information for bodyfeeding. Equitable access for everybody!
Very informational. The presenter and the guest speakers were all so knowledgeable and relatable.
My experience was great! The staff was very attentive and friendly, these kinds of mobile vaccination services are critical in reaching communities who are not able to get the COVID-19 boosters due to work conflicts or other scheduling issues. As a Latino I was very happy to see our community being supported by caring staff. Thank you Nurturely and the staff who were administering the vaccines.
The pattern of diverse caregivers, lots of caregivers, remains the norm around the world today. We are really the outliers.
En la cuarentena se abre una puerta y en esa puerta abierta podemos cuidar del cuerpo físico, emocional y espiritual.
I remember in my IBCLC coursework to become a lactation consultant talking about disasters, and it all seemed very remote and foreign. And it's not - it's right in our backyard.
I like to think of environmental justice as the human right for all people to equitably access the earth's resources and flourish for generations to come.
Babywearing isn't just a thing. It's a culture, and it's my culture.
I had the most wonderful opportunity to assist Positively Pregnancy alumni with learning how to carry their newborn baby in the beachfront wrap provided to them by Nurturely. The feeling was explosive, dad was in heaven being able to wear his babe and have his hands free. Truly one of the most magical experiences to be able to assist my best friends in this journey as new parents.